At Midwest Truck Equipment we do all kinds of aluminum and steel welding. We weld aluminum and steel hydraulic tanks, fuel tanks, air tanks, and more. We can do axle welding, all trailer welding, cross member welding and more.
At our shop we not only offer truck parts distribution across the midwest, but also offer quality repairs few others provide. Fuel tank repair is another low cost quality service we provide whether the fuel tank is aluminum, steel, or stainless steel.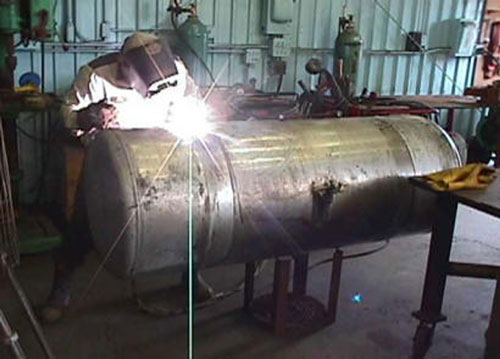 Just some of the reasons to choose fuel tank repairs from Midwest Truck Equipment:
We can provide fuel tank and other parts repairs at a fraction of the cost of purchasing a new part
Our expert team have years of experience at fuel tank and other part repairs
Dealers often do not have new parts in stock, lengthening the repair time
Whether your fuel tank is leaking, needing re-strapping, straightening, shortening or lengthening the fuel tank we can help. Midwest Truck experts bring you the most repair options available.
Midwest Truck Equipment also provides fuel tank cleaning and refurbishing service. This service can be vital for classic car and other obsolete fuel tanks. Without proper cleaning, rust and dirt in the tank from sitting idle for years will cause a breakdown. Our fuel tank cleaning and refurbishing service can solve this quickly and inexpensively.
For more information on an of our products & services please call us.
Service: 701-282-3707
Sales: 701-281-1850